Medior Front-end Developer
We are Teqplay: a fast growing tech scale-up developing data-driven solutions to our customers in the maritime industry worldwide and we are looking for you to join our team! 
The Teqplay Team makes a true impact with their work and creates successful solutions that are used worldwide. By exposing risk and waste in global shipping our solutions reshape the maritime industry towards a more sustainable future. 
We offer you the opportunity of a job that's more than just paying the bills. A job where you work with new technologies and get the opportunity to grow on both professional and personal level. Within a friendly, open and respectful atmosphere you can bring your talents to the next level. Our culture is collaborative, supportive and social, so apart from your job, there is plenty of room for fun, social and learning events.
Hands-on development in the team (React / Typescript).

Collaborating with designers, backend developers, and product owner to come up with the best solutions.

Accurately translate user and business needs into functional frontend codes.

Developing and testing UI for mobile and web applications in close collaboration with end-users.

Using Scrum/Agile development methodologies.

Build reusable code and libraries for future use.
Using Scrum/Agile development methodologies.

Build reusable code and libraries for future use.

3-4 years of relevant experience.

Experience in React Hooks is a plus.
A challenging journey within an ambitious scale-up that's offering data driven solutions to clients all over the world.

An experienced agile team with technical and entrepreneurial skills.

An international environment where your work is really making an impact.

Open team culture; finding the best solutions in collaboration.

Inspiring environment with lots of data; we encourage innovation and exciting experiments.

Freedom to schedule your work hours and work hybrid.

Competitive salary and compensation.

Good pension scheme.

Ownership and initiative is valued.
The best next move in your career
Would you like to find out by yourself that we're truly an ambitious and enthusiastic company where your work makes a difference on real world challenges? We love to hear from you!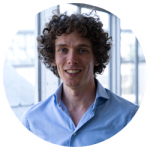 *We do not appreciate acquisition in response to this vacancy.