Digital twin technology is rising in popularity in the maritime sector, but at the core of this development is the challenge of data management. Will the maritime industry overcome this challenge and achieve the full potential of digital twin technology?
The digital twin is a virtual replica of a physical asset or system that can be used for simulation, analysis, and monitoring. The first practical application of digital twin technology was developed by NASA, and the technology has also gained a reputation in the maritime industry. 
The digital twin has become an enabler for digital transformation for many sectors, including the maritime industry. As the concept of digital twin grows more and more popular, the way it is applied to different types of simulations also becomes more blurry. From a more descriptive simulation, digital twin technology has grown into actionable solutions with complex systems. 
Digital twin data integration stages
The maritime supply chain has been met with various troubles in recent years. Meanwhile, digital twin technology has risen in popularity as a solution that can optimize decision making and reduce disruptions. 
Data management is the foundation of digital twin solutions. However, the maritime industry is still slow in improving data infrastructures, and low data availability is a problem that still plagues most digital solutions in the maritime world.
A 2018 scientific literature review has identified three stages of data integration of a digital twin. With each stage, the digital twin becomes more automated and complex:
Digital Model: manual data flow between physical and digital objects 

Digital Shadow: automatic data flow from physical object to digital object 

Digital Twin: automatic data flow in both directions 
In order to create a true digital twin, the industry will need to take action today and focus on investing in data-driven solutions. As promising as the digital twin may seem, without quality data to prop it up, it will be difficult to create values.
The importance of data management in building digital twin
The reality is that the development of digital solutions is still only at the beginning stage. Some executives chase after the hype of the digital twin without paying attention to the real issue of data management.
Considering the complexity of maritime processes and activities, current applications of the digital twin can only solve specific, local problems. In order to create long-term values for the supply chain, maritime stakeholders need to enable a systematic and standardized creation of the digital twin. 
Teqplay believes that the true potential of digital twin technology can only be realized through collaboration and a focus on improving data management. Only with quality data and support from all stakeholders can the promise of digital twin solutions be realized.
Teqplay's approach with the digital twin is centered around delivering actionable solutions that can optimize decision making, reduce disruptions, and create long-term value for the supply chain.
By investing in the necessary infrastructure and enabling better data exchange, the digital twin can become a truly transformational technology for the maritime industry. Whether you're a shipping company, port operator, or any other player in the maritime supply chain, Teqplay is here to help you get started on the journey toward a digital future.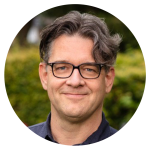 Léon Gommans | CEO/Co Founder of Teqplay
A serial entrepreneur who's passionate about #innovation, #technology, #collaboration, and of course, #maritime. The mission is: to connect the dots & to get it to work, together with the industry!