Digital transformation (DT) is happening across the board among many industries, and the maritime world is no exception. Various initiatives and innovations have been proposed, researched, and executed in the name of "digital transformation" – but what precisely does it entail?
One way DT can be defined is "the process of reshaping the business models due to, and through, the adoption and use of digital technologies with the aim of creating a setting (within the organization and its environment) in which new possibilities (digital capabilities) are enabled and value is created".
Everyone wants a piece of the DT pie and the benefits the transformation promises. That said, it is one thing to want, but to actually succeed in doing so is another thing entirely. There is no doubt that successful DT will bring the maritime sector to a new height, but the journey to get there is full of obstacles: from lack of awareness, lack of standardization, to reluctance in adoption and collaboration among stakeholders. With so much uncertainty and resistance to change in the industry, is DT truly an enabler for a better future? Or is it a disruptive change that threatens the harmony of the current state of the maritime world?
The drivers vs. barriers of maritime digital transformation
The first and foremost driver for change is to save cost. However, as with any innovation, the cost of implementation is a huge entry barrier in spite of any future benefits. The immaturity of the maritime industry's technological development also means a lack of awareness in the values DT can bring; after all, if it isn't broken yet, why fix it?
A 2017 report from PwC shows that a majority of shipping companies did not consider DT to be significant, with only 15% believing that radical changes thanks to DT is unavoidable. Conversely, tech firms and logistics companies that offer complex innovative solutions have risen in importance in the industry in comparison to other intermediate parties:

It can be concluded that while there is resistance toward DT, the industry is still moving toward this future regardless, albeit slowly.
Reluctance and risk aversion aside, the low quality of offshore internet connections, low data availability, and low level of digitalization all serve as further obstacles to change. On the other hand, maritime businesses are also motivated by the desire to increase compliance and operational efficiency. As a solution, DT aims to overcome the aforementioned obstacles and achieve the changes necessary for the industry to face potential turbulence in the future. As energy prices sour, protectionism increases, and regulations become more and more stringent and complicated, innovative changes are more important than ever in ensuring resilience and competitive advantage for businesses.
Maritime digital transformation: a disruptive change?
It is a fact that long-established traditions are difficult to change. Changing inevitably involves various risks, uncertainties, and potential failures. Even when industry leaders are calling for DT developments, without the cooperation of operators and those directly involved in maritime processes, DT will not be smooth sailing. The dichotomy between desire for change from executives and resistance to commit from operators serves as a huge point of contention. DT requires collaboration and coordination, and forcing a transformation upon a culture that does not have the heart to commit will certainly be disruptive. Without careful integration together with management of change and innovation strategies, DT might actually backfire before values can be created.
Maritime digital transformation: an enabler for a better future?
Regardless of existing barriers and challenges, digital transformation is already happening. At the moment, maritime operations are facing many unnecessary bottlenecks due to unoptimized data processing and coordination. From these bottlenecks, hidden costs and opportunity costs arise from inefficiency and missed potentials. On top of that, with rising environmental concerns come stricter regulations that have significant impact on maritime companies, requiring a change in business model in order to remain competitive. What's more, DT itself also presents a dilemma: due to DT, customer expectations and the maritime landscape are both shifting. Customers demand more and better, and the changing environment means that it has become a race of who can better leverage technologies. 
Investment in DT is not a one-off venture, it is a long-term commitment. Even a technology-only mindset would not serve well in the context of digital transformation: innovation needs to go hand-in-hand with collaborative efforts from stakeholders. Each individual innovative solution is a step forward, but without a central platform and standardization, true positive and long-lasting change will still remain a faraway goal. When each stakeholder only focuses on developing their own systems, the exchange among differing systems will always remain a bottleneck that incurs costs and inefficiencies. 
Ultimately, digital transformation is both a promise and a challenge for the maritime industry. Regardless of opinions on the matter, change is inevitable and adapting to it is essential for all businesses. In the end, it is the question of whether we can leverage the advantages of DT, or will the challenges it present drown out potential benefits?
As an experienced player in the maritime world, Teqplay firmly believes in the former. As we develop solutions for port call optimization and increase predictive capability as well as data sharing for maritime operations, we have learned that the potential growth for maritime DT is not something that should be missed. Deep understanding of both the advantages and challenges of DT allows us to not only develop better solutions, but also manage the integration of those solutions and become collaborative partners with others in the maritime industry, for the sake of long-term growth.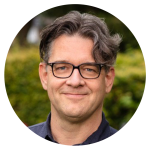 Léon Gommans | CEO/Co Founder of Teqplay
A serial entrepreneur who's passionate about #innovation, #technology, #collaboration, and of course, #maritime. The mission is: to connect the dots & to get it to work, together with the industry!