As the name suggests, a smart port is digital in nature. In a smart port, digital innovations and smart technologies are used to facilitate collaboration among actors and interactions between ships and the shore. The goal is to create a more intelligent, efficient, and economical port that can adapt to the changes in the industry. The efforts to create smart ports are becoming more and more relevant as the supply chain rapidly grows and new challenges arise.
Coordination is an essential part of the maritime supply chain, and smart ports are necessary to increase the level of connectivity between operations. With the increasing concern over environmental impact, smart ports also serve as a greener and more sustainable solution for port operations.
In the maritime industry, the port represents processes that are integral to the global supply chain. As maritime operations have become more complex, so too has the role of the port evolved. Data and information from port operations are now incredibly important to stakeholders due to their crucial role in the supply chain. By themselves, ports are self-organizing systems with no central coordination. This is because there are always multiple competing stakeholders within a port, making collaboration quite a challenge despite its necessity in improving operational efficiency.
To be considered smart, the digitalization of the port needs to be carefully considered. Digitalization needs to serve clear purposes in enhancing port efficiency and adaptability. A smart port needs to be able to equip stakeholders with the right information and support in decision making. The ability to manage large amounts of data and information is crucial for a smart port.
With the help of technology, smart ports provide a comprehensive overview of activities and events. This enables actors to be in control and monitor operations more effectively, ultimately reducing the risk of human errors. Moreover, predictive capabilities also play an important role in monitoring and maintaining flexibility in management. Smart ports need this to be able to adapt and ensure smooth planning.
A smart port also serves as a real-time shared point of truth for maritime stakeholders. The ability to stay on top of ongoing events is something that operators find very valuable, especially when there are disruptions. The supply chain is moving faster while demands are also increasing, adding more risk and complexity to maritime operations. Getting important updates accurately and in real-time is how operators remain in control and be proactive.
Different levels of smart
In reality, while there have been more initiatives to technologically enhance seaports in recent years, there is still a long way to go before true smart ports become widespread. Data-driven solutions, Internet of Things (IoT), and automation have been applied to a select number of ports around the world, but there are few ports that fully capitalize on the potential of digitally enabled insights.
How smart a port is depends on its level of integration to the wider supply chain and its use of insight-driven solutions. The performance of a smart port is dependent on the level of process automation, interaction with actors, and commitment to innovation. A successful intelligent port not only relies on digital technology but also integrates it into the social, economical, and environmental aspects of port operations.
How smart a port can be is also about how much the port environments are linked together. The goal of a smart port is to create a seamless ecosystem that connects all infrastructures, as well as coordinate stakeholders and authorities. The purpose of using smart port technology toward this goal is to increase resiliency and ensure a sustainable development for the industry as a whole.
The first step toward a smart port is digitization, but to be a true smart port, the port needs to be connected to the wider system. How connected a port is depends on its capabilities, with the most advanced smart ports being able to integrate with not only the terminals but also the city, and ultimately the international supply chain.
What trends are driving a smarter port?
1. Digitalization
Most industries and businesses are being heavily affected by digital transformation, and ports are not an exception. The scale of port operations is becoming bigger, generating larger amounts of data, pushing businesses to search for better solutions to manage and utilize information. In order to catch up with the rapid development of the maritime sector, ports need to keep up with technological advancements and utilize insight-driven solutions.
2. Automation
Automation is also a significant trend in the development of smart ports. The Port of Rotterdam exemplifies this with its automated terminal and even automated sailing. The digital twin is an important building block in the process of building a smart, automated port. It provides a virtual replica of the port and its operations, and when combined with communication based on IoT, this has the potential to level up a port's automation capability.
3. Transparency
The port is a complex environment with many different competing companies. Because of this, there is an issue with transparency due to stakeholders not willing to share information that could be distributed to competitions. This stands in contrast to the necessity of collaboration among actors, where the lack of transparency is a great obstacle. Efficiency and operational excellence need seamless coordination, which cannot be achieved without information sharing. The smart port technology would need to both manage data and enable the sharing of data.
4. Data-driven decision making
Improving cargo flow, improving management and lead time are the goals that all ports strive for. Optimal decision making is how these goals could be fulfilled, and optimization could only happen with the help of insights derived from data. The maritime supply chain is too big for any individual or even organization to comprehend and interpret by themselves, so it is very important to have access to background information of events, and also a way to process this information. Simply put, data-driven decisions are decisions made in consideration of the context surrounding it. This is also a key element of the coordination in a smart port.
5. Collaboration
Collaboration is a key capability to build resilient and sustainable supply chains. In order to make smart (collaborative) decisions, ports need to facilitate effective and efficient collaboration. Of course the starting point is with willingness to collaborate, linking to the transparency topic mentioned earlier. Standardization will drive this ability to collaborate, with important initiatives like the Taskforce Port Call Optimization. Technology like API's make information available to facilitate collaboration in real time.
6. Resilience
The maritime industry's landscape is facing many challenges both internal and external, from the changes happening within and from worldwide geopolitical issues. In a time like this, resilience and sustainability have become a top priority for maritime businesses. New technologies and business models need to be established to keep up with the industry's development. Especially now that environmental concerns have become more urgent than ever, with more policies being put in place to mitigate emission, businesses would need to be flexible in order to keep up.
What are the main smart port technologies?
1. Internet of Things (IoT)
A true smart port needs to be able to fully capitalize on the potential of IoT applications and technology. Thanks to IoT, a smart port can take advantage of the newest insights within the supply chain and optimally configure the port. IoT innovations represent great change and great opportunities for many sectors, and for the development of smart port technologies in particular. However, it is also an enormous challenge to assimilate the various different elements of a supply chain to achieve an effective IoT solution.
2. Blockchain
Every step of a port operation always involves many different actors. Interactions between those involved make up the large part of every operation, which makes security and coordination very important. Because of this, blockchain has become more and more common in the development of smart ports. Thanks to distributed ledger technology (DLT), information and transactions can be processed more efficiently and securely. The use of blockchain would also help reduce traditional methods of communication that could be cumbersome and inefficient.
3. Big Data
A complex environment like a port inevitably produces high volumes of data very quickly. Big data innovation is all about the power to process and utilize these data, capturing the most important insights at the right time to aid decision making. When ports keep to traditional methods, there could be a lot of hidden costs due to the inability to analyze every step of the process. Big data technology has the potential to create great values for ports, and thus is an essential component of a smart port technologies.
4. Artificial Intelligence
Meaningful insights need to be generated by accurate simulation of what goes on in the port. This is where AI comes in and provides the necessary tools to not only simulate but also predict events. This enables stakeholders to better allocate their resources and be more flexible in the planning process. Just in time operations also rely on the predictive capability of a smart port, and AI solutions play quite an important role in realizing this.
5. Port Call Optimization
As an important part of the supply chain, the port call process requires strategic efforts to optimize and ensure operational excellence. The initiatives to realize smart ports ultimately aim to optimize port calls. In turn, port call optimization efforts drive innovations that would lead to a smart port.
1. Charterer
For charterers, it is always most ideal for port stay to be shortened. Each delay in a port call incurs more cost for the chartering party, so port call optimization is particularly important in staying cost-effective. As processes grow in complexity but procedures remain unchanged, it would be difficult for charterers to optimize their operations. Smart ports initiatives are important in changing this by innovating and utilizing technological advantages. Investing in more capacity for ports is necessary, and the ability to manage larger volumes is just as essential. There is now automation of ports all over the world, from the smart ports of Europe to major hubs in the Middle East, China, South Africa, etc., all of which serves to benefit charterers and shorten port stay by being more efficient and reducing human errors.
2. Ship owner / Liner services
The ability to have a good overview of operations and events is something all ship owners and line services need. In many cases, acquiring accurate PTA is the key to better planning and decision making. Predictive capability is one of the biggest cornerstones of a smart port. Thanks to IoT applications and digital twins, smart ports can both simulate a port and its operations, current and future. For ship owners and line services, insight-driven decision making is the way forward in order to prevent unexpected risks. With how interconnected the maritime supply chain is, it is dangerous to make decisions based only on a limited view of events. Digital support in a smart port will help prevent long-term consequences that could arise in such cases.
3. Terminal
Accurate ETA prediction is also important for terminals. Terminals need to be aware of important changes in predictions as soon as possible and ensure smooth operations for stakeholders. Instead of only reacting to disruptive events, terminals should be in control and be proactive at all times. Smart ports will be able to give better context to support in decision making. The digitalization of processes will make sure that time will be spent more efficiently and help terminals deliver more values to customers. 
4. Port authority
An efficient port with short port stays is an attractive port. As a port gets busier and traffic increases, the need to mitigate risks and optimize processes gets greater. With the increase in demand, the supply chain is in constant search of optimization and smart solutions to adapt. As a part of the supply chain, ports also need to catch up with these developments. To deliver the best services for shipping lines and bolster the city's performance, port authorities need to build a good business platform where supply and demand are met. Operations in ports have a great effect even further down the chain, so it is important that authorities make the best use of smart port solutions and avoid delays.
1. Better predictability and visibility
As has been established, predictability and visibility are among the most powerful benefits of a smart port. By itself, the enormous volume of data produced by the maritime supply chain does not have inherent values. It is only when smart ports utilize innovations to achieve actionable insights that the data becomes meaningful. A smart port is a digital platform with diverse sources of information from various systems, which enables strong predictive capability and provides actors with a clear overview of their ports. 
2. Enable JIT
Just In Time, or JIT arrival is the cornerstone of modern supply chain management. Ultimately, the best operations are the ones that most closely achieve JIT arrivals. In order to enable ports do that, every step of each process and procedure needs to be optimized and synergized with high accuracy. To answer the challenge of increasing port throughput and external disruptions, smart ports continuously develop innovative digital solutions. An important aspect of a smart port is constant growth and development based on business strategy, which allows for the supply chain to be adaptable and resilient.
3. Better decision making in ports
All the benefits granted by smart ports culminate in the betterment of decision making. Making decisions requires good information first and foremost. Even with long time experience as the basis, there is no telling the potential long term consequences of a short term decision. Smart ports give decision makers the necessary context to operate and reduce the risk of human errors. 
4. The start of autonomous shipping
Automation is the future of the industry, and smart port development is the first step toward that future. As technology costs increase and interest in investments rise, implementation of advanced technologies will become ubiquitous. Widespread autonomous shipping has yet to be reality, but the first instances of such development have been tested, such as in the Port of Rotterdam. 
What will the port of the future look like?
The future is digital, and more and more investments will be made to upgrade the digital infrastructure of ports. Technology will be a strong competitive advantage for more developed ports, and stakeholders will need to keep up with the race to this digital future. In the wake of new IoT solutions, port authorities will have to rethink how to capture values and make the most of digital transformation. In a future where smart ports are the standard, ports will be heavily integrated within a larger network including their cities and the international supply chain. Cooperation among different ports will be crucial in maintaining seamless connectivity and operation.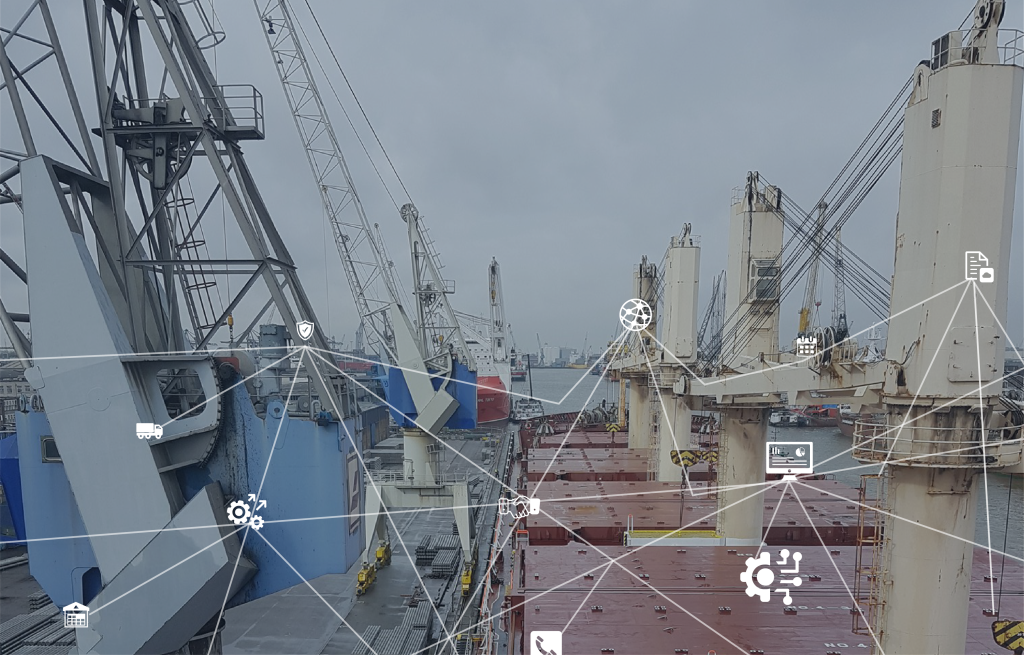 The maritime industry is pushed to contribute to the net-zero by 2050. Many initiatives are taken to achieve this challenging goal. Legislation is brought into play by bodies like the IMO and local governments or authorities with examples like the CII. Of course ports have an important role to play in this transition, next to the physical infrastructure a digital infrastructure is required. 
We expect the industry, including ports, to be forced to bring data and technology into play in order to achieve the targets. The maritime industry will be held accountable in 2030 for the net-zero commitments, and these need to be backed by credible action. As has been established in the Port Call Optimization whitepaper, in order for the industry to move forward, we need to solve the challenge of leveraging technology and improving collaboration between various actors. 
The port and the port call processes are in most cases too big and interconnected for each individual actor to oversee, comprehend and interpret. Operational excellence is in the DNA of most maritime organizations, bringing that capability to ports and the maritime ecosystem as a whole is the next step. This is where ports (have to) play a new, important, role. They should facilitate the process to make high quality data available, it is essential to collect information from various connected systems and create a comprehensive picture of operations.
Creating this digital infrastructure in ports will directly aid the actors in the port call in decision making, creating the trust and base to attract and invest in sustainable and efficient cargo flows. Ultimately, the aim is to provide the insights to the actors that are actionable and applicable to daily operations of port calling, ensuring that all the choices made have a strong basis in real-time updates of information and events. Decisions can no longer be made in a vacuum. Operating based on deep insights backed up by contextualized data will enable positive change in the industry. Port call optimization cannot be achieved without change and innovation, requiring stakeholders to be aligned in strategic thinking and digital business solutions. To combat disruption and stay on top of future development, the maritime industry needs a smart port.
Download Teqplay's Smart Ports whitepaper here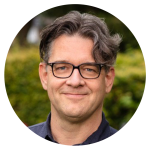 Léon Gommans | CEO/Co Founder of Teqplay
A serial entrepreneur who's passionate about #innovation, #technology, #collaboration, and of course, #maritime. The mission is: to connect the dots & to get it to work, together with the industry!